In 1953, Bessie and Albert Porter decided to travel back to Detroit to visit their Thompson family and  help celebrate the 50th Wedding Anniversary of Bessie's brother and his wife, Walter and Blanche Thompson.  At that time they were living in Sacramento, a sprawling city in the central valley of California.
They travelled by train, leaving Sacrament and traveling to Salt Lake City, Utah.  Then on to Denver and Chicago before arriving in Detroit.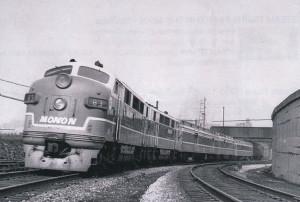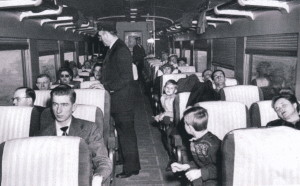 They arrived in Detroit, Michigan on an April day in 1953.
Bessie and Albert had lived in Detroit in 1918.
Here is a close up of the same photo, taken in 1918 on the front porch of their home at 76 Lincoln Avenue, Detroit, Michigan. On the porch you see Albert sitting in a chair, Bess sitting on the step, Ruth Anderson standing next to a child's sleigh and Jerry Anderson holding his son, Jack Anderson who appears to be one to two years old.  Jack was born July 2, 1917 in Detroit
And another of the same house in Winter.
A street scene of Lincoln Avenue in Winter.
Bess Porter had returned to Detroit at least once before 1953.  Here she is photographed with Claudia Randall, Blanche Thompson and Hazel Thompson.  The occasion was Hazel's graduation from Eastern High School in 1927.
Twenty five years later Bessie and Albert Porter would return to Detroit, older, wiser and ready to celebrate Walter and Blanche's Fiftieth Wedding Anniversary.

Well, that was quite a trip down memory lane!  I hope I got most of the important dates correct, and if I didn't, please feel free to contact me.  Remember to double-click any of the gallery photos and they will come up larger with a caption identifying people and places.
Enjoy!