In 1913, Ruth Porter and Jerry Anderson were an "item."  Ruth was 15 and Jerry was four years older.  Included in this collection of photos are those taken at Orchard Beach, another taken on board a boat anchored along the shores of Lake Michigan and still others taken in stylish automobiles that recently replaced the horse and buggy as a favorite way to go on a Sunday afternoon tour.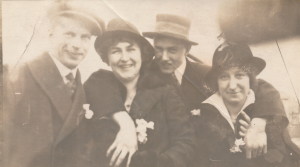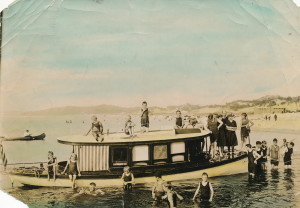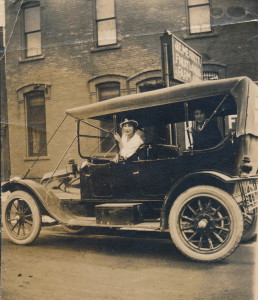 Of course, I was not around in 1913, so I can only surmise what fun these folks were having.  But from what I see and what you will see in the following gallery of photos, they were having the time of their lives. They were young, good looking and enjoying life in a most picturesque place in Northern Michigan.  Soon most of them would leave for other parts of the globe, but for a while they lived and "courted" in Manistee, Michigan,
Here are Ruth and Jerry which I might have guessed was taken after their marriage as there is a small boy in a carriage that they are pulling along a board walk.  However when I examined the back, Ruth had written: "Taken at Manistee September 19, 1913."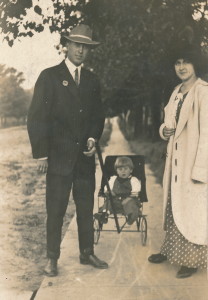 It was a different time and all of us who gaze at these photos can only guess what it was like to be alive when the automobile first made its appearance in Manistee, let alone a few years after Albert Einstein wrote his treatise on Relativity, or Thomas Edison invented the light bulb..
And yet there was dissension, as is evidenced by the last photo I will share with you this time.  It was taken at Orchard Beach and has an inscription that says: "A Sunday Afternoon At Orchard Beach."  Everything looks perfect until you look more closely and see that one person in the center of the photo has X's drawn through her..  Your guess is as good as mine.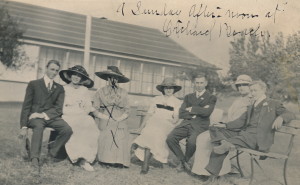 Enjoy!