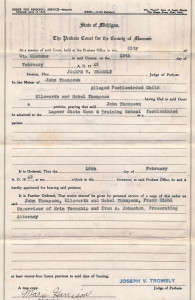 1942 was a difficult year throughout the world.  The US was on the defensive in the Pacific, giving up the Philippines and retreating from Burma.  Russia was about to defend Stalingrad against the Germans.  On the home front, the US  was about to begin mandatory rationing of gas, cigarettes, meat and many other domestic items.
The Ellsworth Thompson family also was feeling the stress of the war, but our war concerned serious family matters.  By 1942, mother and dad had increased their family to include Herb., born in 1936, John, born in 1938 and me, David, born in 1940.  Our second brother, John, had serious mental issues  making it impossible for him to develop normally.  My mother said that he seemed to be normal when he was born, but  never really developed at a normal rate.  She and my dad spent much of their early lives together taking John from one doctor to another, from one hospital to another, always looking for some sign of progress and hope.  My earliest memories included hearing John crying in the back bedroom.  My mother said that my first sentence was: "Why is Johnny always crying?"
In 1942, with my mother pregnant with her fourth child – soon to be Jim – it became clear that something had to change concerning the care, and ultimately the housing, of John. On February 18, 1942, my mom and dad petitioned the State of Michigan to have their son, John Ellsworth Thompson, committed to the Lapeer State Home & Training School as a "feebleminded" patient.
Thanksgiving 1942 was held at our home in Roseville, Michigan, then a remote suburb of Detroit. Someone, probably Aunt Hazel, snapped some photos of the event, along with other snapshots of our home.  The first snapshot you will see is of cousin Ed and brother Herb looking gleefully at the turkey on the dining room table. Just in front of the turkey is grandma's fig cake, which was always a centerpiece at the Thanksgiving dinners.  In front of the cake is a shimmering electric stainless steel coffee percolator.
The next snapshot shows dad carving the turkey. To his immediate left is Aunt Ruth, looking happy and beautiful.  Ed is next with a smile on his face. Next, Uncle Goodenow with a full  head of hair, looking at the camera.  My mother is next, still looking like a schoolgirl with a ribbon in her hair and showing a figure not much different from when she was first married.  She has just turned thirty.  She has borne three children and is pregnant with her fourth.
The next snapshot shows my dad and granddad fixing an inner tube that must have gone flat.  Dad is wearing slippers and grandpa has his ever-present cigar sticking out of his mouth. In front of them is the hood of Aunt Hazel's Ford.  Behind them is the Jeffery's home and in the distant left is the Sovey's home.
The next photo is of brother Herb, looking proud and happy, about to play something on his new trumpet with grandma and mom looking on adorringly.
The rest of the snapshots will be labeled with comments that may help to clarify who or what you are looking at.
1942 was a dreadful year. My hat comes off as I salute the adults shown in these snapshots – Grandma Blanche, Grandpa Walter, Mother, Dad, Aunt Ruth, Uncle Goodenow, Aunt Hazel – coming together to support one another and to help make possible a joyous environment for their children.
Enjoy!
From our home looking past the US flag to the one new house on the block, that of Thelma and Charlie Black.  Shorthly after they built it, Charlie, who worked with my Dad at US Rubber Co. was drafted into the Army and went to war in Europe.  The next time I saw him was when he appeared at our new home in Detroit in 1945, looking much older and sporting a mustache.  He scarred me.
Petition to commit John to Lapeer State Home & Training School.
This photo was taken in 1940.  It is the only photo I have with John included. From left to right, Aunt Ruth with Ed, Aunt Hazel, Grandma, Mom holding John, Great Grandma Bucher holding me. Herb is standing above .