Stacy was an apprentice printer at the time he began his scrapbook, and from what I have been able to discern from family lore, he was destined to try his hand at the ministry.  The year following his first entry, he began his studies at Albion College in Albion, Michigan.  Albion College was a Methodist College intent on preparing students in the Christian Ministry.  Albion College is where Stacy learned that he did not want to become a minister and where he met the woman who would become his wife, Ida May Goodenow, also a student.
Stacy and Ida May left Albion College after their first year to get married in Grand Rapids, Michigan and to return to Manistee, Michigan to begin their lives together.  On one of the pages of Stacy's scrapbook containing family memorabilia are a few articles from the Grand Rapids newspaper where his brother, Edwin and he were apprentice printers.  Also, there we find the announcement of their marriage along with Ida May's "calling card."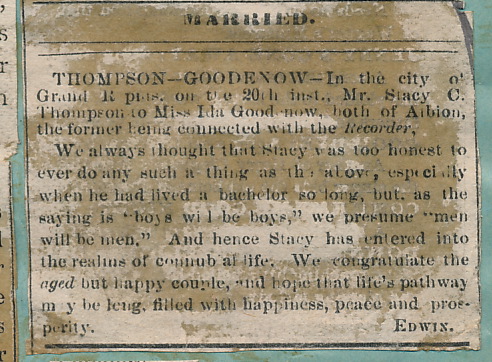 As you read the above short article, several things become apparent.  First, Stacy was  associated with the Recorder, a Grand Rapids newspaper.
Second, the article was signed: Edwin. Edwin is Stacy's brother who also was associated with the Recorder and went on to establish the Legioner Leader in 1895. in Legioner, Indiana. Third, brother Edwin is poking fun at the couple's age, calling Stacy aged, when in actuality he was only 18.